Property Management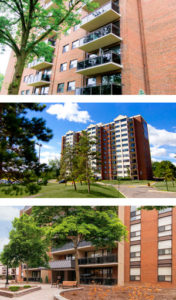 CLV Group is one of the largest private property management firms in Ottawa, boasting an impressive array of properties across the city. Through the years, CLV Group has expanded its reach and brought the CLV brand outside of Ottawa. We now operate in Trenton multiple areas in the Greater Toronto Area, Southwestern Ontario, Gatineau and Montréal.
Our rental portfolio currently consists of over 10,000 units offered in a range of properties including high-rise buildings, low-rise apartment buildings as well as townhomes. With our extensive portfolio and diversity across Ontario and Quebec, CLV Group is bound to have the perfect place for you.
Visit CLV Group to learn more!
Financial Services
CLV Financial Services can arrange financing for your next real estate venture! Whether you are looking to finance your commercial property, investment property or to renegotiate a current mortgage, CLV Financial Services is the right place to turn.
We are able to offer you some of the very best rates in the industry through our relationships with various financial sources that look out for your best interest. With the right terms and rates to suit your specific needs, we specialize in finding creative solutions.
Contacts
Phil Drouillard
Sr. Mortgage Broker, CMB, RFP
e: phil.drouillard@clvgroup.com
Phil has been a professional mortgage broker for the past 10 years, specializing in both residential and commercial financing as well as mortgage investment financing. He began his real estate career as a sales representative in Toronto in 1985, working for Quann Agencies.
Phil had a successful career for several years before gravitating to the mortgage industry. Phil worked with Kasuco Mortgages for several years before moving to Commvesco to head the Mortgage Division. CLV Financial Services arranges over $50,000,000 of mortgage during a typical year.
Michael Simon
Mortgage Broker, CMB, OERB
e: mike.simon@clvgroup.com
Michael has been involved in commercial real estate since 1986. He is a licensed mortgage Broker and a member of the Canadian Association of Accredited Mortgage Professionals (CAAMP). He received his commercial accredited appraiser's designation (AACI) in 1991 from the Appraisal Institute of Canada. Michael has arranged conventional and private, first and second mortgages, on retail, office, commercial, and industrial properties, as well as apartment buildings, special use properties (i.e. hotels), recreational properties, farms and vacant land. He is also a licensed salesperson with the Real Estate Council of Ontario (RECO) and a member of the Ottawa Real Estate Board (OREB).
Construction & Development

With such an expansive portfolio of residential and commercial units, CLV Group initiated an in-house Construction and Development Division in order to lower maintenance and capital repair costs within the existing portfolio. The division quickly attracted highly qualified craftsman and CLV Group developed a reputation as a top quality contractor specializing in renovating major projects; ranging in price from $20,000 and up.
CLV Construction and Development takes pride in providing exceptional quality and craftsmanship on each project we stand behind.
Check out LIV Apartments!

In the spring of 2013, InterRent REIT purchased Ottawa's largest centrally located apartment building. In the heart of Centretown West, 207 Bell Street North – comprises of  438 units. Partnering with CLV Group, the project is one of the biggest transformations ever in Ottawa's apartment rentals industry and has undergoing major renovations to completely upgrade and enhance the building.
Apartment living redefined with condo-style amenities such as valet parking, concierge, dry cleaning and house-keeping.  It also features an exclusive members gym, main floor café and an awesome roof top patio over-looking all of Ottawa!  Check out Ottawa's newest Apartments!
LIV Apartments!  Be a part of it!